Product Catalog Builder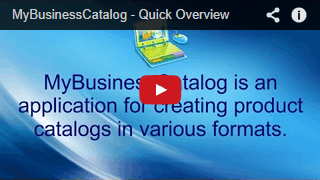 In the rapidly changing world, it can be quite a challenge to keep your customers well-informed about your products and services. If you regularly send printed catalogs, you are aware of the following two problems: such catalogs are very likely to be outdated when they reach your customers and they simply cost too much.
Product Catalog Builder can help you successfully solve the both problems. Furthermore, the program has a number of capabilities and features that turn it into a powerful tool for businesses of any size.
Product Catalog Builder is a program for creating electronic catalogs of products. Among advantages of such electronic catalogs, the following ones should be mentioned:
Creating a catalog doesn't require special skills or hardware. While Product Catalog Builder can be used to build highly customized product catalogs, it's pretty easy to master.
Building a product catalog is intuitive. Elements can be laid out visually.
Once created, a catalog is very easy to maintain. Older items can be removed, new ones added. Unlike printed catalogs, such an electronic catalog doesn't need to be completely rearranged and laid out anew.
Electronic catalogs can be distributed on CDs. A CD is usually more compact and lighter than a printed catalog, which opens new possibilities. For example, a catalog on CD can be added to a magazine issue.
Burning CD catalog is simple with the built-in Make CD wizard.
Create your own internet shop easily using the E-store feature.
You don't need to send new versions of your catalog to existing customers. Their catalogs can be updated over the internet.
Easy to search for a particular product.
Products can be ordered directly from the catalog using built-in order forms. An order can be instantly sent by email, by fax, or using other available methods.
Special options for gross re-sellers.
Automatic discount calculator.
Very large product catalogs are supported as easily as smaller ones.
Different kinds of reports and documents can be printed: illustrated catalog, price list, information about a particular item, order.
Export to PDF and HTML.
Import from MS Access, Excel, DBF, TXT, XML, CSV.
Slide show mode will help you represent your products at some convention automatically.
Over 150 skins and graphical elements make possible creating truly your own catalog, with your distinct look and feel. Build your electronic catalog the way you like it with Product Catalog Builder!
News
Articles
Options of the Same Product
When creating a list of your products in Product Catalog Builder, you may discover that some products have almost the same properties. As an example, we can take T-shirts. One T-shirt may be available in several sizes: S, M, L, XL...
Testimonials
Jeff Stanley
Sales director and co-owner of A-Tracks
I'm writing just to thank you for the amazing program. It never occured to me that an electronic product catalog could save so much time and money. The last time I counted it was a four-digit figure. Can't help thinking I should have found it earlier...
Tip of the Day
Did you know that...
...you can get help any time by pressing F1